Product

Format

Age

Key Features

Ingredients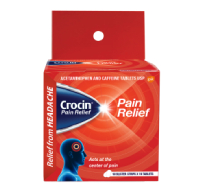 Crocin Pain Relief
Tablets
12 + Years

Acetaminophen and caffiene tablets USP
Paracetamol IP : 650mg

Caffeine Anhydrous IP : 50 mg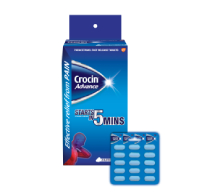 Crocin Advance
Tablets
12 + Years

Paracetamol 500mg fast release tablets
Paracetamol I.P. 500 mg

Analgesic and Antipyretic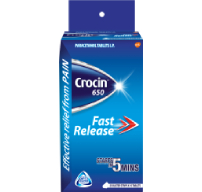 Crocin 650
Tablets
12 + Years

Paracetamol 650mg tablets
Paracetamol I.P. 650mg

Analgesic and Antipyretic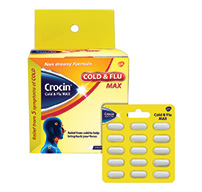 Crocin Cold & Flu
Tablets
12 + Years

Acetaminophen , caffiene and phenylephrine tablets USP
Paracetamol: I.P. 500 mg

Caffeine I.P. (anhydrous): 32 mg

Phenylephrine Hydrochloride I.P.: 10 mg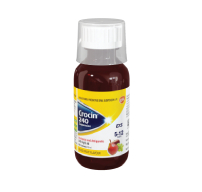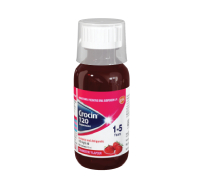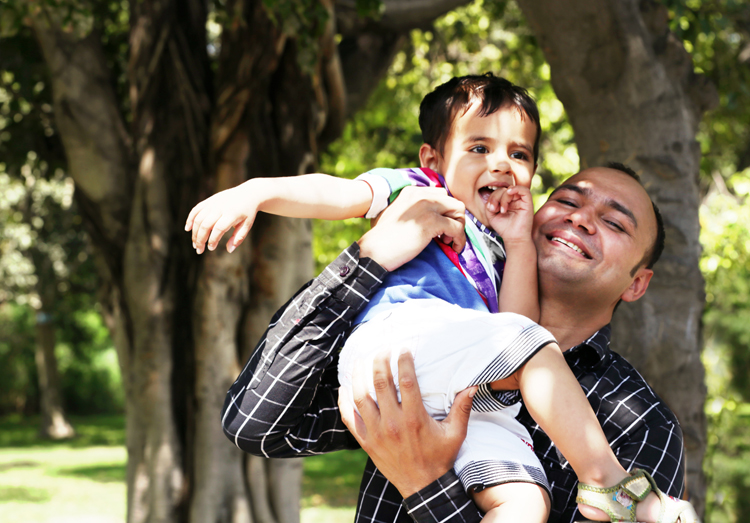 DISCLAIMER
This Disclaimer contains the terms and conditions governing this Site www.crocin.in by accessing or using this Site you expressly accept and agree to abide by all the terms and conditions contained in this Disclaimer.
This Site is available only for your personal use and is limited to viewing the Site and providing voluntary information to the Site. GlaxoSmithKline Asia Private Limited (GSKAP) manufactures and markets various non prescription medicines and cosmetic products in India and has had this website developed for the benefit of consumers.
GSKAP or its Agency will not be responsible for any NDNC (National Do Not Call) Registry regulation that will come into play. All users who register will agree as per the terms and conditions that even if they are registered under NDNC, DND (Do Not Disturb), GSKAP or its Agency will have all the authority to call such shortlisted participants by virtue of them having voluntarily participated in the campaign.
PROPRIETORSHIP
The proprietor of this Site is GlaxoSmithKline Asia Private Limited, India ("GSKAP"). GSKAP owns or has rights to all of the text, wallpaper, graphics, icons, characters, artwork, images, music, software and other content of the Site, and all HTML design, layouts, configurations, CGI and other Code and scripts in any format used to implement this Site. These are protected by copyright. All names, logos and trademarks that appear on the Site are the property of GSKAP or are used by GSKAP under license.
No part of the text or graphics on this site may be reproduced or transmitted in any form or by any means, electronic or mechanical or otherwise, including by photocopying, facsimile transmission, recording, re-keying or using any information storage retrieval system for redistribution to third parties for commercial purposes, or otherwise without permission in writing from GSKAP. Any copy of these materials which you make for personal use shall retain all copyright and other proprietary notices and any disclaimer contained thereon and on this Web Site. Your failure to comply with this Disclaimer constitutes a breach of contract and violates GSKAP's copyright, trademark and other proprietary and industrial property rights.
LICENSE
Nothing contained herein shall be construed as conferring by implication, estoppels or otherwise any license or right under any patent, trademark, copyright or other proprietary or industrial right of GSKAP, its affiliates or any third party.
USE OF INFORMATION PROVIDED BY YOU
This Section does not apply to personal data supplied by you to this Site, such as your name, address, e-mail address, telephone number etc. Please read our Privacy Statement for information regarding our treatment of personal information.
Any information that you submit to this Site, including but not limited to comments, suggestions, feedback, data, questions etc. shall not be deemed confidential. All such submissions shall be deemed the property of GSKAP and GSKAP will not be liable for any use or disclosure of such information. GSKAP will not have any obligation to keep such information confidential and will be free to reproduce, use, disclose and distribute the information to others without limitation. GSKAP will be free to use any ideas, concepts, know-how or techniques contained in such information for any purpose whatsoever, including but not limited to developing, manufacturing and marketing products that incorporate or otherwise rely upon such information. GSKAP does not seek to solicit any confidential or proprietary ideas, suggestions, materials or other information relating to developing, designing, redesigning, modifying, manufacturing or marketing its products or any new products. By submitting information you warrant that GSKAP may publish such information, use it as part of its operations, and incorporate its concepts in GSKAP products without any liability.
GSKAP product information is provided for information purposes only. While GSKAP attempts to provide accurate and timely information, there may be inadvertent technical or factual inaccuracies and typographical errors or changes in relevant laws and regulations. GSKAP reserves the right to make corrections and changes in the site without any notice. GSKAP does not claim that the products described in the Site will be available for purchase in all jurisdictions. Although GSKAP has made every effort to display the products and their colours as accurately as possible, the displayed colours of the products will depend upon the monitor of the user, and GSKAP cannot guarantee that the user's monitor will accurately portray the actual colours of the products.
Users of this Site assume all responsibility and risk with respect to their use of this Site. GSKAP makes no representations about the suitability, reliability, availability, timeliness, completeness, usefulness and accuracy of the information accessed or disclosed through this site. All information contained on the site is provided to you "AS IS" and GSKAP disclaims all warranties, representations and endorsements, express or implied, with regard to information accessed from or via this Site, including but not limited to all express and implied warranties, such as warranty of title, merchantability, non-infringement and fitness for a particular purpose. Users should obtain specific professional advice concerning specific matters and GSKAP accepts no responsibility for any loss resulting from reliance on any information contained on this site or in respect of any information on any other sites to which this site may be linked.
GSKAP does not warrant that this site is free of computer viruses, bugs or any other harmful components. GSKAP does not warrant that the functions contained in the material will be uninterrupted or error-free or that the errors will be detected or corrected.
Under no circumstances shall GSKAP, its related companies or corporations, its Directors, agents or employees be liable for any direct, indirect, special, punitive, incidental, or consequential damages, or any damages whatsoever resulting from whatever cause, including but not limited to loss of use, loss of profits, loss of data, or any other type of damage, tangible or intangible in nature, whether in an action under Contract, Negligence, Tort or otherwise, arising out of or in any way relating to the use or performance of the information on, or accessed through this Site.
GSKAP reserves the right to withdraw access to this Site or to revise the services and products described in this Site at any time without notice.
GSKAP may at any time revise the terms and conditions contained in this Disclaimer by updating this posting. You are bound by any revisions and should periodically visit this page to review the current terms and conditions that apply to your use of the Site.
The invalidity of any term, condition or provision of this Disclaimer shall not affect the enforceability of those portions of the Disclaimer deemed enforceable by applicable courts of law.
COOKIE POLICY
Updated August 2015
GlaxoSmithKline uses cookies to improve the experience for our website visitors and has published this cookie policy. It explains what cookies are and how we use them on our site. If you don't want to receive cookies while browsing our website, you can modify your browser settings so that it notifies you when receiving cookies or you can choose to restrict or block cookies.
Like most other companies, GlaxoSmithKline uses cookies to improve the experience for our website visitors.
Cookies are tiny files, composed of a string of letters and numbers, placed on your computer by web page servers. They enable the website owner to distinguish you from other users of the website. Cookies cannot be executed as code or used to deliver viruses and they cannot enable us to access your hard drive. We cannot read any information on your hard drive even if we store cookies there.
The data generated through cookies on GlaxoSmithKline websites can be used for various purposes including the following:
Strictly necessary
These cookies are essential in order to enable you to move around the website and use its features, such as accessing secure areas of the website and saving items to a shopping basket.
Performance
These cookies collect information about how visitors use a website, for instance which pages visitors go to most often and if they receive error messages. They are used to improve how a website works in future versions.
Functionality
These cookies allow the website to remember choices you make such as user name, language or region you are in and provide a more enhanced personal experience.
Targeting or advertising
These cookies are used to deliver content more relevant to you and your interests.
We don't permit any third parties to advertise on our website but we cannot control advertisers that are allowed by internet service providers to advertise whilst you are browsing on the internet.
GlaxoSmithKline is required by law to obtain your consent for all types of cookies that we place other than those that are "strictly necessary".
You can learn more about how to manage your cookies by visiting the Help function of your browser, or you can visit www.aboutcookies.org which provides detailed information on managing cookies on popular browsers. Please be aware that parts of the site may not function correctly if you disable cookies.