Product

Format

Age

Key Features

Ingredients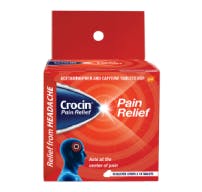 Crocin Pain Relief
Tablets
12 + Years

Acetaminophen and caffiene tablets USP
Paracetamol IP : 650mg

Caffeine Anhydrous IP : 50 mg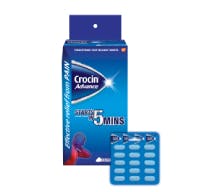 Crocin Advance
Tablets
12 + Years

Paracetamol 500mg fast release tablets
Paracetamol I.P. 500 mg

Analgesic and Antipyretic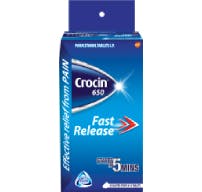 Crocin 650
Tablets
12 + Years

Paracetamol 650mg tablets
Paracetamol I.P. 650mg

Analgesic and Antipyretic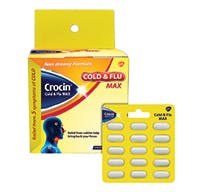 Crocin Cold & Flu
Tablets
12 + Years

Acetaminophen , caffiene and phenylephrine tablets USP
Paracetamol: I.P. 500 mg

Caffeine I.P. (anhydrous): 32 mg

Phenylephrine Hydrochloride I.P.: 10 mg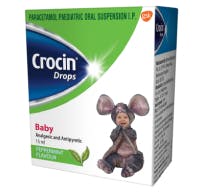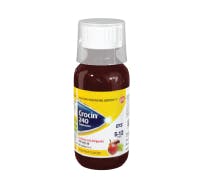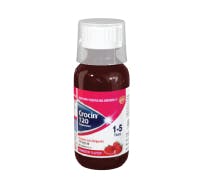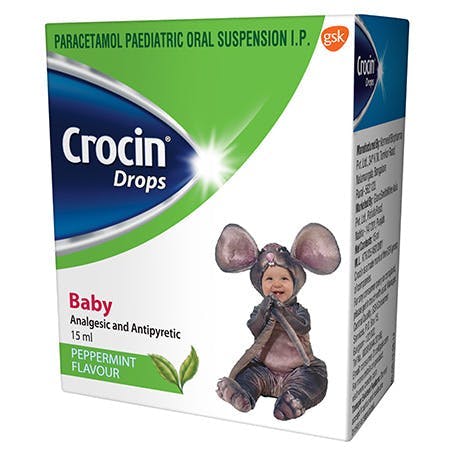 CROCIN'S CHILDREN RANGE
Crocin Drops
Crocin's children range includes drops for infants and suspensions for children upto 12 years of age. All products in this range come with a dosing device to help parents give their child the accurate therapeutic dose.
Flavours : Peppermint flavour in Drops (100 mg/ml) , Strawberry flavour in Crocin 120 (120 mg/5ml)
and Mixed Fruit flavour in Crocin 240 Suspension(240 mg/5ml).
Dosage(15mg/kg per dose)
What does it relieve?
Fever
Teething
Immunisation
Earache
Headache
Cold & Flu symptoms
What's the format?
Suspension
A suspension consisting of undissolved particles of one or more medicinal agents mixed with a liquid vehicle for oral administration.
What are its features?
Fast relief while being gentle to little stomachs
Starts relieving fever in 15 minutes | Peppermint flavor | 15 ml Amber colored bottles with ROPP cap | Graduated measuring dropper for correct dosing | Protective cap for dropper to prevent contamination | Shelf life of 24 months

What are the ingredients?
Active ingredient: Paracetamol 100 mg/mL
Crocin Drops Dosage
Age : 2 - 12 Months
Avg wt. (kg)
3.8-5.5
5.5-8.3
8.3-10
Dose(ml)
0.6-0.8
0.8-1.2
1.2-1.5
Each ml (approx 30 drops) contains:Paracetamol IP : 100mg
Directions for use
In each case, not more than 4 doses in any 24 hour period or as directed by the physician. Minimum dosing interval: 4 hours. Maximum daily dose: 60 mg/kg presented in divided doses of 15 mg/kg throughout the 24 hour period. Do not administer for more than 48 hours without doctor's advice.
Parental Advice: Should not be used along with other paracetamol containing products; contraindicated in patients with known paracetamol hypersensitivity; seek medical advice if the patient is suffering from liver or kidney impairment. Overdose may be injurious to liver; immediate medical management is required in the event of overdose, even if symptoms of overdose are not present.
Use as directed on pack. Crocin is a trademark of GSK group of companies. @2015, GlaxoSmithKline.
For more details, read product information
Warning
Do not give more than 4 doses in one day or within any 24-hour period. Do not use for more than 48 hours at a time except on medical advice.
Further Information
The recommended dose for Children's Panadol in children under 12 years is 15 milligrams of paracetamol for every 1 kilogram body weight. Follow the dosage instructions on the bottle, do not exceed the recommended dose unless directed by your doctor.
Enquiries
If you would like any further information regarding Children's Panadol products, please call our INFOLINE (Freecall) Australia on 1-800-028-533, or send a query through our website.
References
1 Ipsos Brand & Ad Tracking, October 2014
2 Autret-leca E et al. Curr Med Res Opin 2007; 23(9)2205-2211
3 Walson PD et al. AJDC 1992;146626-623
4 Schachtel BP, Thoden MA. Clin Pharmacol Ther 1993;53593-601
5 Celebi S et al. Indian J Pediatr 2009;76:287-91
6 Clarke GD et al. lnt J Pharm Pract 2008;16:1–4 (GSK sponsored)
7 Nielsen MAT Volume Sales June 2015
* Refers only to non-prescription medicines and is based on the liquid paracetamol formulation given at a dosage of 15 mg/kg.
† Refers to only non-prescription medicines at the recommended Australian doses for paediatric paracetamol (15mg/kg) and ibuprofen (10mg/kg).